Dominican In-house counsel analyze legal challenges in digital environment
Published on: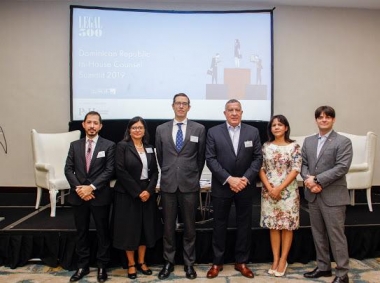 They presented the need to have clear rules that define the interaction with regulators and consumers
SANTO DOMINGO, DOMINICAN REPUBLIC. In-house counsel discussed the legal challenges of Dominican companies in the digital environment and proposed the need to update the legal framework in relation to this matter.
At the 5th Dominican In-House Counsel Annual Summit hosted by Pellerano & Herrera and The Legal 500, renowned publishing house, the participants addressed topics such as cybersecurity, compliance and electronic infringements.
During the panel data protection, contracting of technological services, digital rights and intellectual property associated with the Internet era were also addressed.
Over 50 in-house counsel of leading local companies of the most important and growing sectors of the country were present at the event.
César Moliné, Director of Cybersecurity, Electronic Commerce and Digital Signature of the INDOTEL presented as keynote speaker and panelist, in addition to Manuel Grullón Hernández, entrepreneur and Fintech promoter; Miriam Jocelyn Sánchez, Legal Division Manager of Banco Popular Dominicano; Isabel Andrickson, Senior specialist lawyer and director of Pellerano & Herrera's digital and technology practice; and Tim Girven, Editor of The Legal 500 were present during the panel.
Grullón stated that for financial technology companies or "fintechs" it is important to have clear games rules that define the interaction with regulators and consumers. "We must add security and confidence to encourage investment."
For Sánchez, the digital boost is very dependent on the regulatory system; and indicated it is key to identify how far you want to go, how much you can risk and how much security can be offered to the user.
"The current state of many of these regulations require an urgent update to contemplate not only the evolution of information technologies, but also to open up new opportunities in the development of the digital economy", highlighted Moliné.
Andrickson advocated for efficient and safe policies for both legal counsel and the entities responsible for regulating the system, indicating that the development of capabilities that allow us to take advantage of the possibilities offered by business technology is essential. "The lack of knowledge place obstacles in the processes," she emphasized.