Pellerano & Herrera and The Legal 500 host General Counsel reception in the Dominican Republic
Published on: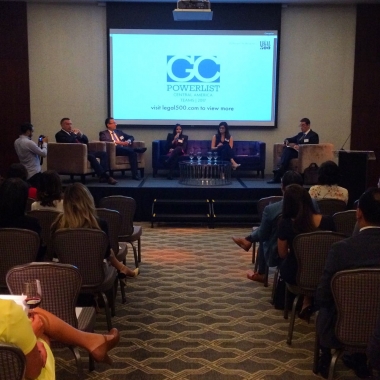 Pellerano & Herrera and The Legal 500, internationally recognized British publisher, hosted in Santo Domingo the third reception for corporate counsels and legal teams of renowned Dominican companies.
The reception took place at the Real Intercontinental Hotel with the participation of general counsels from leading companies such as Banco Popular, Scotiabank, Banco del Progreso, Banco BHD, Pueblo Viejo Dominicana Corporation, Aeropuertos Dominicanos Siglo XXI, AES Dominicana, Air Europa, Claro, Corporación Minera Dominicana, Gildan, Altice, Grupo Pena Defilló, Major League Baseball, Nestlé, Phoenix Tower International, Philip Morris International, Grupo Martí, Grupo Ramos, ARS Humano, among others.
The Legal 500 GC Powerlist: Central America 2017 was presented during the event after its recent launch in Costa Rica, where legal teams from renowned Central American companies, including those in Dominican Republic, were listed for their high efficiency and extraordinary performance.
Ricardo Pellerano, Managing Partner of the firm, participated in a panel moderated by Tim Girven, Editor of The Legal 500, together with Odette Pereyra, Legal Director of Scotiabank; Giselle Leger, Corporate Counsel of AES Dominicana; Omar Bairan, VP of Compliance and Legal of Banco del Progreso and Adelaida Adames, Legal Director of Philip Morris International. Topics of interest regarding in-house legal team management were discussed in the panel such as international best practices, compliance, data privacy, recruitment and specialization of legal personnel, among others.
The Legal 500 is a British publication that has been researching the capabilities of law firms across the world for over 28 years, in over 100 jurisdictions.
Pellerano & Herrera has been the leading law firm in the Dominican Republic for more than 25 years. The firm has the most complete and multidisciplinary team of lawyers in the country, with vast experience in more areas of practice than any other firm in the country. In 2017 Pellerano & Herrera won three main awards of the international legal market – "Firm of the Year" by Chambers Latin America Awards, IFLR America's Awards, WWL Awards.