Pellerano & Herrera and The Legal 500 hold roundtable for Dominican corporate counsels
Published on: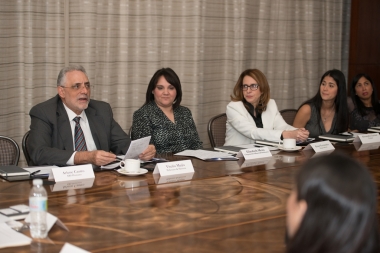 Pellerano & Herrera and The Legal 500 hosted a second roundtable for corporate counsels of renowned Dominican companies.
The roundtable took place at the Real Intercontinental Hotel in Santo Domingo with the participation of general counsels from Cormidom, Grupo Ramos, Citibank, Grupo Magna, Gerdau- Metaldom, Hoteles Barceló, AES Dominicana, Grupo Martí, Plaza Lama and Productos Chef.

The dialogue revolved around the key habits that make an effective corporate counsel and in-house team maintenance and succession, based on the experience of the participants and under the motto: "The difference that makes the difference."
Tim Girven, the editor of The Legal 500, moderated the conversation, with the perspectives of partners Ricardo Pellerano, Vitelio Mejía Ortiz, Mariangela Pellerano and Gustavo Mena.
This second meeting in the Dominican Republic follows the first roundtable Pellerano & Herrera held in November 2016, which was a pioneering initiative that for the first time brought together corporate counsels from different industries.

The Legal 500 is a British publication that has been researching the capabilities of law firms across the world for over 28 years, in over 100 jurisdictions. The rankings are based on a series of criteria and recognize practice area teams who are providing cutting edge and innovative advice to their clients.
Pellerano & Herrera has been the leading law firm in the Dominican Republic for more than 25 years. The firm has the most complete and multidisciplinary team of lawyers in the country, with vast experience in more areas of practice than any other firm in the country.