Pellerano & Herrera recognized in Topbrands 2016 as one of the leading brands in Dominican Republic
Published on: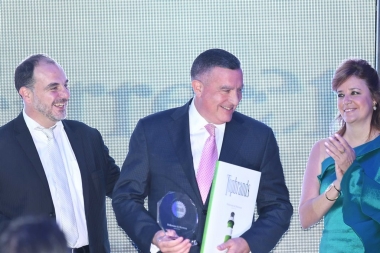 Pellerano & Herrera was selected for third consecutive year as one of the top brands of 2016 in the Dominican Republic by prestigious publication Topbrands. The firm received this award in 2010 and 2013 and continues to be the only law firm recognized in this publication.
Ricardo Pellerano, managing partner of Pellerano & Herrera received the award and the 4th edition of the Topbrands 2016 publication presented on Tuesday, November 8th at the JW Marriott Hotel in Santo Domingo. He thanked the directors of Grupo Cerca, the Central America and Caribbean representatives of Superbrands UK.
In this edition of the Topbrands 2016 publication, The Book of the top brands in the Dominican Republic, 49 local and international brands operating in the Dominican Republic were recognized and evaluated for their excellence in branding and marketing.
The following criteria were used for the selection of the brands:
- Market dominance: whether the brand stands out in the consumer's mind;
- Brand loyalty: the consumer's willingness to pay more than for the competition;
- Longevity: proves the brand's solidity through change and time;
- General acceptance: whether the brand is distinguished from the competition, and is easily recognized and recommended;
- Confidence: the quality of the brand is already proven and the consumer receives as expected.
The publication also describes interesting facts unknown to consumers on each of the awarded brands such as: market, history, product, relationship with the community, brand value, innovations and specifics of the brand in figures.
Pellerano & Herrera has been the leading law firm in the country for more than 25 years. The firm has the most complete and multidisciplinary team of lawyers in the country, with vast experience in more areas of practice than any other firm in the country. It has been awarded the most important award in the legal industry -"Firm of the Year"- by prestigious ranking firm Chambers and Partners based on client interviews five times (2009, 2010, 2011, 2013 and 2015). The firm is also ranked by other renowned legal directories such as: International Financial Law Review (IFLR), Latin Lawyer and Legal 500.