Pellerano & Herrera, Firm of the Year 2015 of the Dominican Republic
Published on: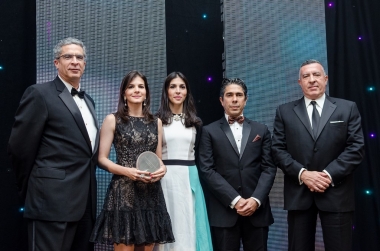 For the fifth time the firm brings prestigious British ranking firm, Chambers and Partners', renowned award to the Dominican Republic
Pellerano & Herrera has been awarded for the fifth time as "Law Firm of the Year of Dominican Republic" at the Chambers Latin America Awards for Excellence 2015, held in Miami, Florida.
Chambers and Partners, British ranking firm, grants this annual award to the most valued firms in Latin America based on market research and interviews conducted by independent specialists to clients, law firms and other qualified sources in each participating market. This year Pellerano & Herrera has been recognized again as the firm with the most notable performance in the Dominican market.
In the past year, in addition to maintaining its presence and participation in the country's most important and relevant transactions, Pellerano & Herrera has created a specialized Environmental Law practice group, led by renowned environmental expert Gustavo Mena, who joined the firm this year as a partner.
Similarly, the firm strengthened its Dispute Resolution and Arbitration practice with the arrival of the remarkable litigation lawyer Vitelio Mejía Ortiz in 2014.
"The best Dominican lawyers were incorporated into the powerful team of Pellerano & Herrera during the last years", commented Ricardo Pellerano, managing partner of the firm.
Among other important initiatives in 2015 he mentioned the publication of the 26th edition of the Doing Business in the Dominican Republic Guide in Spanish, English, French and Mandarin, which is being updated online on www.businessindominican.com, the recently launched web-site and the firm's publication of the fourth edition of the Annotations to the Dominican Tax Code.
The firm has been the winner of this prestigious award in 2009, 2010, 2011 and 2013. Pellerano & Herrera is the first and the only law firm in Central America and the Caribbean that has been awarded the world's most important legal industry award five out of seven years.
The firm has been nominated seven times since Chambers began to segment the Latin American market by countries, but before, in 2008, Pellerano & Herrera had received its first nomination in the Chambers Awards, this time competing with the most prestigious firms of Central America and Caribbean.
"These milestones are already a part of the history of Dominican law," noted Pellerano, also referring to the "Chambers Lifetime Achievement Award 2010" as an unprecedented and unrepeatable event in the Dominican market. The award was granted to Dr. Juan Manuel Pellerano, founding partner of Pellerano & Herrera, for his lifelong contributions to the legal industry.
The year's "Law Firm of the Year " award was received by partners Ricardo Pellerano, Luis Rafael Pellerano, Mariangela Pellerano and Gustavo Mena at the majestic Fontainebleau Hotel in Miami.